Why iGuru school management software?
iGuru School Management Software is a comprehensive solution designed to simplify and streamline the day-to-day operations of educational institutions. With its user-friendly interface and a range of features and tools, iGuru offers an efficient and effective way to manage admissions, student records, financials, and other administrative tasks.
The software's attendance tracking, grade management, timetable creation, homework management, and communication modules provide an integrated solution that can help improve communication and enhance the learning experience for students.
Book Demo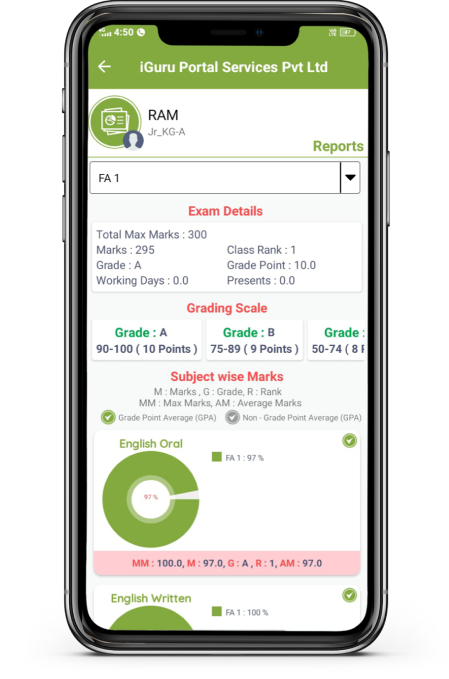 Simplify School Management with Our Comprehensive Modules.
Transform Your Education System with One Unified ERP Solution.
Attendence
Tracks real-time student attendance, manages absence requests, and sends automated alerts.
Events and Gallery
Create, manage, and promote varied events, while providing a media gallery to share and cherish memories.
Admissions
Streamlines the admission process, with features like registration, application tracking, and interviews.
Exam Management
Simplifies exam scheduling, grading, result publication, and offers customizable reports for tracking progress.
Time Table
Eases scheduling of classes, teachers, rooms, and enables easy online access for students and parents.
20+ Modules
A variety of other modules that can be customized to suit your institutions specific needs.
The app for teachers offers a range of role-based benefits, including streamlined teaching processes and improved classroom management. With features such as lesson planning, grade book, attendance tracking, and communication tools, teachers can easily manage their classes and focus on delivering high-quality education.
Additionally, It enables teachers to create and assign homework, track student progress, and communicate with parents and students, improving engagement and collaboration. With these benefits, teachers can save time, reduce administrative workload, and deliver a better learning experience for students.
Parents can access attendance records, grades, homework assignments, and school announcements through iGuru. The app facilitates communication with teachers and administrators, encouraging parental involvement. With bus tracking and real-time alerts, parents gain peace of mind about their child's safety. The app offers a convenient and comprehensive way for parents to stay informed and connected to their child's school life.
Student app offers various benefits for academic success. Homework assignments, grade tracking to keep students organized and focused. Communication tools enable collaboration with teachers and classmates. Access to educational resources like the events gallery, Homework, Fee Payment, and progress tracking motivates students to reach their goals. With these tools, students can achieve academic success.
Management app is a comprehensive solution for efficient school administration. It includes features like admissions, student records, financial management, and communication tools. Administrators can track enrollment, monitor finances, and communicate with stakeholders. Advanced features like data analytics offer valuable insights for informed decision-making. With this powerful toolset, school management can streamline operations, enhance efficiency, and drive better outcomes for the institution.