Why iGuru Mobile App?
A school mobile app can enhance the educational experience via improved communication among administrators, teachers, students, and parents. It enables immediate updates and announcements regarding school events directly to users' devices. Easy access to key data such as academic calendars, grade reports, online payments, digital library, and homework enhances information accessibility from anywhere at any time.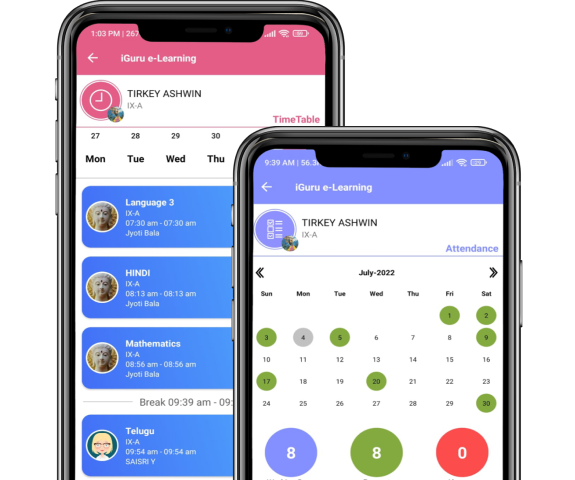 App Modules
Attendence
Tracks real-time student attendance, manages absence requests, and sends automated alerts.
Bus Tracking
Offers real-time tracking of school buses, ensuring the safety of students and providing peace of mind for parents.
Exam Management
Simplifies exam scheduling, grading, result publication, and offers reports for tracking progress.
E- Learning
Integrates assessments, exams, worksheets, and class notes, enabling real-time feedback, and collaboration.
Time Table
Eases scheduling of classes, teachers, rooms, and enables easy online access for students and parents.
Events and Gallery
Create, manage, and promote varied events, while providing a media gallery to share and cherish memories.
Fee Management
Streamlines finance operations with invoice generation, payment tracking, and customizable collection processes.
Students
Centralizes student data—personal details, academic records, and attendance—enhancing tracking and monitoring.
Feedback
Facilitates two-way communication for valuable insights, improving teaching and enhancing student experience.
Get a free Demo
Get a personal tour of our software with a tailored demo session led by our product experts
Requesst a Demo